Who we are
At the IIIT-Delhi, we're ambitious, curious, focused and determined. Our motto is that our ambitions should drive us to dream big and gender bias should not be a hurdle. Curiosity inspires us, and our determination fuels us to accomplish our goals, letting no obstacle stand in our way. These are the traits that make women stronger, and they give us the unique ability to create positive change in communities, organizations, and businesses that span the globe. At IIIT-Delhi we ensure that women are half of the work force of the country, and we would go to any extent to empower that better half of our strength. The WI connect is an inclusive on-campus student center which strives to create change on campus in response to sexism and misogyny, doing social justice work at the intersection of many identities such as sex, gender identity, gender expression, race, class, sexual orientation, ethnicity, and ability.
We are a community of diversely feminist, social-justice-oriented individuals. We work to enrich our communities through social gatherings, informative session on women rights, and social justice. we are working towards diversifying framework and by nurturing holistic individual growth through activism, events, post-classroom learning, and consciousness-raising engagement.
Over the years we have noticed that women account for half of the students in law, medical, and business programs, however, women in the science, technology, engineering, and mathematics fields are still way underrepresented, and women receive less financial aid than their male classmates. So, while gains have been made for women in academia there are still innumerable disparities, explicit and implicit, on the campus college and later in the workforce. We strive to make their campuses safe, inclusive, and supportive of women, and actualizing liberation in all aspects of the Center's work, striving for greater equity, retention, advancement, and empowerment of women-identified students, staff, and faculty.
Academic Life
At IIIT-Delhi the disparity between men and women on campus is far lower than the national average of other technical institutions. Diversity can be somewhat of a buzzword among both students and college admissions officers alike.
Balanced Gender Ratio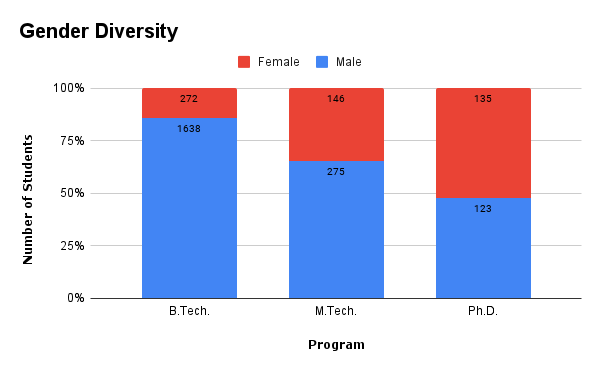 Clubs, Organizations and Extra-Curricular Policy and Institutional Support
---
Success Stories
Last updated: 04-08-2023