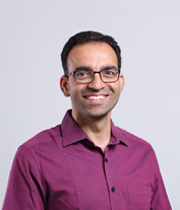 Anuj Grover
Associate Professor (ECE)
Contact Details
Profile
Dr. Anuj Grover has obtained Ph.D. from IIT Delhi in 2015, MS (Electronic Circuits and Systems) from UCSD in 2003, and B Tech (EE) from IIT Delhi in 2000. Prior to joining IIIT-Delhi, he had been working as Principal Engineer - Member of Technical Staff at STMicroelectronics, Greater NOIDA. He has been associated with IIIT-Delhi as a Guest Faculty since January 2018. In more than 18 years of experience in the semiconductor industry as a Memory Designer, he has worked on a wide range of technologies like Bulk CMOS, BCD, Imaging, UTBB-FDSOI CMOS, e-NVM across a range of feature sizes from 22nm to 0.35um. He has more than 25 publications across IEEE journals and conferences.
He has strong interest in Systematic Innovation and is trained on applying Theory of Inventive Problem Solving (TRIZ). He has been awarded TRIZ Level-3 Certification from MIT and MATRIZ. He has also been certified by World Intellectual Property Organization (WIPO) on application of TRIZ for patents. He has been a STUniversity certified trainer on a program "From Creativity to Innovation". He has 5 granted patents and more than 10 patent applications in different stages of filing.
His current research interests include Ultra Low Power In-Memory Compute for edge computing and machine learning applications; safety and security in hardware; and error resilient energy efficient systems.
He is also a Franklin Covey certified trainer for 7 Habits of Highly Effective People Signature Program and would be keen to bring this program to IIIT-D for faculty, staff and students.
Research Interests
Ultra Low Power In-Memory Compute for edge computing and machine learning applications
Safety and security in hardware; and Error resilient energy efficient systems
Teaching Interests
Memory Design
VLSI Design
Solid State Devices
Theory of Inventive Problem Solving
Affiliated Centres & Labs