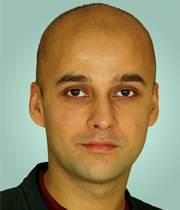 Aasim Khan
Assistant Professor (SSH)
PhD (2018), King's College London
Contact Details
Profile
Dr. Aasim Khan is Assistant Professor at the Department of Social Sciences and Humanities, IIIT-Delhi. Aasim is a specialist in global and area studies, with a focus on South Asia. His research interests combine his training in communication, political theory and public policy, and he is particularly interested in studying the expansion of the Internet in the global South. He was educated in Delhi (St Stephen's College and MCRC, Jamia Millia Islamia) and London (SOAS and King's College London) and completed his PhD in Politics and Public Policy, from King's College London, in 2018. Most recently, Aasim was awarded the Fulbright-Nehru postdoctoral fellowship and he will be spending a year as a Visiting Scholar in Political Science at the Watson Institute, Brown University (beginning Fall 2022).
Over the years, his research and reporting has been supported by several grants and fellowships. He received the Global Institutes Studentships and the Mazumdar Fellowship (2012-2015) at the King's India Institute. In 2014, he was awarded the Global Governance Futures fellowship by the GPPi Institute (Berlin). Aasim was a visiting faculty at IIM-Indore (2019) and appointed an Associate Researcher at the Centre de Sciences Humaines (CSH, UMIFRE n°20) in September 2021. Aasim has also raised several grants to fund his work, including the IMPRESS grant by the Indian Council for Social Science Research (ICSSR), and a Global Challenges Research Fund GCRF grant (in collaboration with the Goldsmiths, UK). As a journalist he received a mid-career fellowship to report on caste and access to healthcare by PANOS South Asia (article based on the fieldwork appeared in an anthology published Penguin/Zubaan, 2012). He was also a recipient of a research stipendship for research on urban migration and markets, by the SARAI program of CSDS, Delhi.
His research and commentaries have been published in several peer-reviewed journals including Culture Unbound, Global Policy, Television and New Media, India Review and contributed to several edited volumes. These include a chapter in a volume on politics of digital infrastructure in urban India titled Diginaka (Orient Blackswan, 2020). More recently, he's developed a theory of 'data states' in the global South and has contributed a chapter on it for a volume on Transforming India (forthcoming World Scientific, 2023). Another strand of this research relates the role of digital mediation in climate action and he published on the 'Climate Strikes in Millennial India' in Communication, Culture and Critique (OUP, 2022). Aasim co-edited a special issue on digital politics in 'Millennial India' (Sage, 2019) and is currently co-editing another volume on Twitter and politics in India (forthcoming in Global Policy, 2023).
Aasim has delivered more than 20 public lectures in the last few years on themes related to his research and writing. Some preeminent instances include the 'Extreme Speech' workshop held at India Habitat Centre, Delhi, public seminar at the Center for Law and Governance, JNU, and an introduction to Critical Thinking in Social Sciences at the Department of Humanities and Social Sciences, IIT-Jodhpur and at the Data, State and Society seminar series at TISS (February 2020). Aasim was an invited speaker on Data, Society and Culture at the 10th anniversary event of King's India Institute held in Delhi, 2022 and at the seminar on journalism and society at Goldsmiths University (London, 2023). Before moving to academia Aasim worked for many years in broadcast news journalism (CNN-IBN) and international development (Oxfam GB) and continues to write for popular news outlets, including Scroll.com, and is a regular contributor to The Book Review.
Research Interests
Digital Politics
Data and Governance
Social and Climate Movements
Civic Media and Journalism
Teaching Interests
Digital Politics
Democracy and News
Data and Society
Critical Thinking (with a focus on disinformation in Digital Era)
Affiliated Centres & Labs