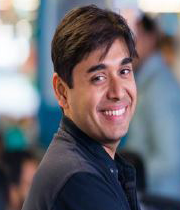 Mr. Naveen Tewari
Founder & Chief Executive Officer at InMobi

Naveen Tewari is an entrepreneur and the founder and CEO of InMobi, a global mobile advertising and technology platform. He believes in constant innovation. His dream is to re-imagine advertising in a truly 'user-first' way and unlock the true potential of the mobile ecosystem.
He has a Bachelor's degree from Indian Institute of Technology Kanpur (IITK) and a Master's degree in Business Administration from Harvard Business School, where he was also bestowed with the Dean's Award, for his exceptional leadership and contribution. In 2013, IIT Kanpur also honored him with the 'Distinguished Alumnus Award' for his excellence in entrepreneurship.
Tewari is involved in the fueling of around 30 start-ups as yet in India and has personally invested and supported several start-ups like NestAway, SlideRule, Mettl, Moneysights, Bombay Canteen, Zimmber, Razorpay, etc. A believer that start-ups will be the pillars of growing India, he co-founded iSPIRT, which aims to address government policy, create market catalysts, and grow the maturity of product entrepreneurs in order to transform India into a hub for new generation software products.
He also founded and chairs a U.S.-based nonprofit called India School Fund which funds and sets up schools in rural India, a cause he cares deeply for. Naveen is the board member of Paytm and has been recognized for his entrepreneurial skills at various platforms. He received several awards and recognitions over the last several years, including `2nd Most Important Person' by Business Insider's the Mobile Power List, 2012, 'Mobile Top 50' in the Drum, 2013, Forbes India Leadership Award for `Outstanding Start Up', 2014, and 'Future Leaders Award' presented by Prime Minister Shri Narendra Modi, 2015.
An avid fan of cricket, Naveen is a fitness enthusiast and his early morning routine alternates between a long run outdoors and a cycling trip around the less crowded parts of the city.