Research Innovation and Incubation Showcase (RIISE)

Registration Fee for Students: INR 300*
Registration Fee for Working Professionals: INR 500*

NOTE * : Registration required only for people outside IIIT-D. The fee is inclusive of event handouts, lunch and high tea. We may also provide basic accommodation to few people coming from outside Delhi NCR as per the availability. Please select "Research Innovation and Incubation Showcase (RIISE) 2020" from the select payment purpose dropdown.
Student Poster Abstract Submission
NOTE: Poster Abstract Submission Deadline is Jan 26, 2020. "Cash Prizes for Best Poster under each RIISE Theme". Posters by students on their research, innovation they would like to share, and incubated companies are welcome. Not for students from IIIT-D.
About RIISE
Research Innovation and Incubation Showcase aims to bring together the stakeholders from government agencies, industry and academia. There will be five parallel sessions on the topical themes of Digital Health, Human Centered Design, Information Security, Internet of Things and Sustainability. Talks and panels to discuss the state-of-the-art, the way forward, and opportunities for future collaboration along with networking and poster sessions.
Themes of RIISE
---
Keynote Speaker
---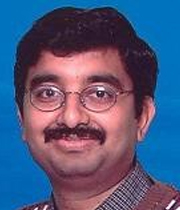 Venkat Padmanabhan
Deputy Managing Director, Microsoft Research India
Worked with Microsoft Research Redmond for 8½ years. Founder of Mobility, Networks, and Systems group in India. Shanti Swaroop Bhatnagar Awardee (2016). Fellow of Association for Computing Machinery (2016), Indian National Academy of Engineering (2014) Institute of Electrical and Electronics Engineers (2012)
Event Details
Date: 31st January 2020
Venue: IIIT-Delhi
Time: 08:00 AM to 05:30 PM
Schedule
| | | |
| --- | --- | --- |
| S.No. | Timeline | Program Outline |
| 1 | 08:00 AM - 09:30 AM | Registration/ Badge Collection/ Welcome Refreshments |
| 2 | 09:30 AM - 09:40 AM | Welcome Address- Dr Ranjan Bose, Director, IIIT-Delhi |
| 3 | 09:40 AM - 10:45 AM | Keynote Address - Dr Venkat Padmanabhan, Deputy Managing Director, Microsoft Research India |
| 4 | 11:00 AM - 01:30 PM | Parallel Theme sessions |
| 5 | 01:30 PM - 02:30 PM | Lunch |
| 6 | 02:30 PM - 04:00 PM | Poster, Demonstration & Research Lab Open House |
| 7 | 04:00 PM - 04:15 PM | Tea/Coffee/Snacks Will be Provided |
| 8 | 04:15 PM - 05:30 PM | Theme specific Activities/ Joint activities |
| 9 | 05:40 PM | Awards for Best Posters and Event Closing |
Theme Speakers
---
RIISE Theme - Digital Health
---
Aman Iqbal
Founder - Vantage Enterprise, Mental Health Activist

Anurag Agrawal
Director, CSIR-IGIB

Nandini Sharma
Director Professor and Head, Department of Community Medicine
Maulana Azad Medical College, New Delhi, India

Pallab Mitra
Founding Director, QoaLife Healthways Pvt Ltd

Rohit Gupta
Co-Founder & Chief AI Officer at BuddhiMed Technologies

Sharmila Mande
Chief Scientist, TCS Research

Vidur Mahajan
Mahajan Imaging

Saher Mehdi
Co Founder & Chief Sciencist, wellOwise
RIISE Theme - Human Centered Design
---
Anirudha Joshi
Professor, Indian Institute of Technology, Bombay

Debjani Roy
Faculty member in Human-Centered Design at Srishti Institute of Art, Design and Technology

Krishna Ravi Srinivas
Consultant at RIS and Managing Editor of Asian Biotechnology and Development Review (ABDR)

Pushpendra Singh
Head (HCD), Professor (CSE, HCD), IIIT-Delhi
RIISE Theme - Information Security
---
Kaarthik Sivakumar
Principal Engineer, Cisco Systems

K. Gopinath
Professor, IISc Bangalore

R K Shyamsundar
Distinguished V. Professor, IIT Bombay

Vinay Riberio
Associate Professor, IIT Delhi
RIISE Theme - Internet of Things
---
Alok Mittal
Sr. Group Manager, STMicroelectronics Pvt. Ltd

Laxmidhar Behera
Professor, Department of Electrical Engineering, IIT Kanpur

Mukulika Maity
Assistant Professor, IIIT-Delhi

Rajeev Shorey
Principal Scientist/Researcher at TCS Innovation Labs, Cincinnati/Bangalore and Adjunct Faculty, Department of CSE, IIT Delhi

Subodh Gajare
Chief Architect, SDN, Cloud, IoT and Mobility – Cisco R&D Center (Bangalore)
RIISE Theme - Sustainability
---
Amrit Srinivasan, IIIT-Delhi
Sustainable Lifestyles Accelerator

Atreyee Bhattacharya
Univ. of Colorado, Boulder

Mandira Kalra Kalaan
Associate Director/Head Communication, Population Foundation of India

Vivek Gilani
Managing Director & Executive board member, CBalance