Alexander Fell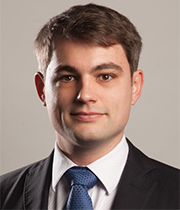 Assistant Professor (ECE)
PhD (2012), Indian Institute of Science, Bangalore, India
After completing his PhD from the Indian Institute of Science in November 2012, Alexander Fell continue to work as research scientist in the field of CGRAs, a novel computer architecture, at the Rheinisch-Westfälische Technische Hochschule in Aachen, Germany. In June 2013 he joined IIITD as Assistant Professor in the department of Electronics and Communication Engineering (ECE).
His research interests are mainly focussed on CGRAs, their implementations, algorithmic performances and communication patterns. Further he is active in the area of Embedded Systems and their applications in connection with alternative energy sources and autonomous driving to name a few.


Research Interests:
Coarse Grain Reconfigurable Architecture (CGRA), Network on Chip (NoC), Power optimizations for embedded systems.
Teaching Interests:
Computer Architecture, Embedded Logic Design, FPGA.